AFFORDABLE ROADSIDE ASSISTANCE FOR EVERYONE
ITACO ASSIST mobile app to request any Roadside Assistance Service 24 hours 7 days
Road Side Assistance (RSA) is a set of services that can help you when you have vehicle breakdown or accident on the road, in a parking lot, at work or even at home. If you are stranded, Itaco RSA plan can help with services like changing a flat tire, jumpstart, towing your vehicle to a repair shop, fuel delivery and vehicle unlocking etc.
RSA service is considered as an emergency service in the GCC due to extreme weather conditions. Imagine you have a battery problem and your vehicle is not starting in the middle of the road during the peak summer, you have to contact dear and near ones for help and may have to wait long time on the road. Itaco Assist mobile app is the one stop solution for all your RSA services, you can buy Itaco RSA plans and request services 24×7 without calling any one.
Even if you don't have any subscription to Itaco RSA plan, you can still request RSA service through Itaco Assist mobile app by paying only for the required service.
RSA service request through Itaco Assist mobile app is very simple and fast; choose type of service, date & time of service, location, destination if applicable, vehicle details and tap on request service button. A service request will be created in Itaco platform and system will automatically search for nearest service units and assign the fastest unit. Once the unit is assigned, system will send you a notification with estimated time of arrival (ETA) and you can monitor the real time service unit movement from the Itaco Assist mobile app. You have the option to chat with call center at any time. After reaching the location the service unit will update the status and conclude the service. All the services are monitored 24×7 by professional call center agents and intervened if any delay in the service delivery.
Our latest technological platform connects customers and service provider units online through Itaco Assist and Itaco Providers mobile apps. The integration of google maps help us to find the nearest and fastest service unit to serve you. No need to make any phone calls or waiting in the queue to explain your problem.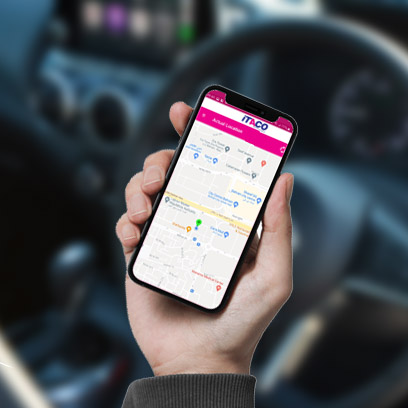 Service Provider Network
ITACO has an extensive network of Service Providers with more than 1,500 trusted professionals spread all over the GCC are available 24X7 to assist you. So, wherever you are located, assistance can reach you in as little as 30 minutes from the time you communicate with us.
Technological Platform
Itaco is the first assistance company in the region to offer a complete solution for managing the services. We use the latest technological tools to build and integrate our assistance management platform. Our platform is integrated with CTI (Computer Telephony Integration), Google maps, Chat, Email and SMS. All related parties are connected online to the platform and interacts instantly. All the interactions and status changes of service from the moment of service request to delivery of the service are recorded for complete transparency and to ensure quality of service. You can request services through three channels – Itaco Assist mobile app, www.itacorsa.com website or by calling the call center.
Itaco Providers Mobile App
All the service units of Itaco are connected online to the Itaco platform through Itaco Providers mobile app and communicate the live location. So all parties will get live location of the service unit. As soon as the unit reach the service location it update the status and also update the status when the service is concluded.